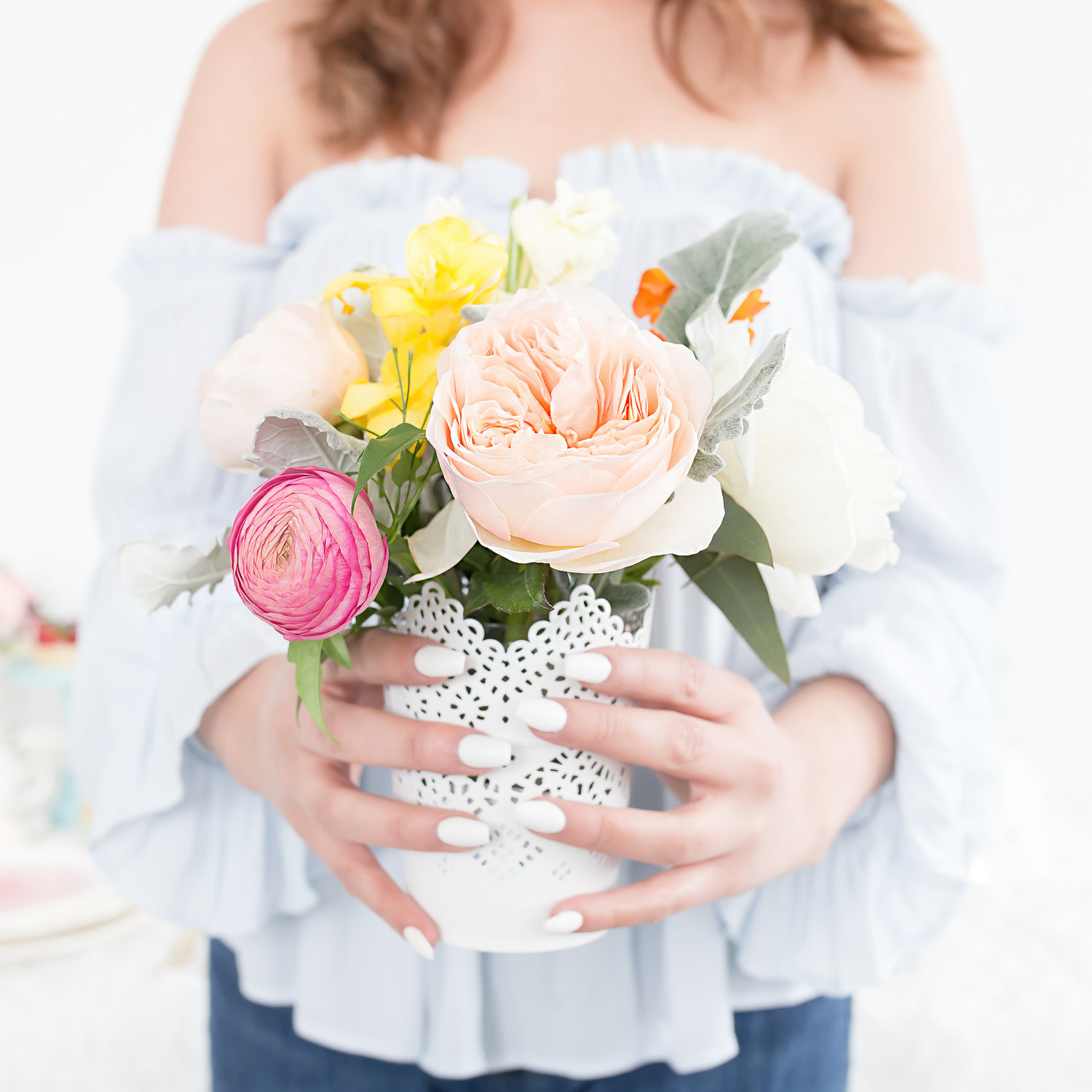 I'm one of those gals who loves to grocery shop. I often joke and call it a mini-vacation when I get to do it myself – it's all joy to plan the meals for my family, to pick out the freshest produce, and to squeeze in some 'me time' while I'm at it.
I'm also the kind of gal who tries to take every grocery bag from the car to the house in one trip! So, with three bags hanging from each finger, I do a silly waddle (and probably make a silly face) striving to carry it all myself.
It's quite a giggle when you picture it. And recently, I was at it again! Circulation cut, muscles aching and trying to carry all the groceries with all my might. As I headed up the stairs, I thought 'Really, Diana? Just put a few down.' But ignored that simple wisdom and kept striving only to trip over myself. I laughed it off, lifted the bags a little higher, and kept going… Only to trip again. I swear I tripped at least three times up those steps.
And in the midst of my missteps, I quickly saw a parallel in my everyday life. You see, it's not just grocery bags that I try to carry alone. I daily try to carry the weight of motherhood on my own. The weight of marriage. Of keeping my home tidy. Of loving people well while also trying to figure out my own imperfections. Maybe you can relate as you sense those tired, weary areas of your life.
But here's the truth: we have a Heavenly Father who carries us. Who takes our weights and gives us His rest instead. So, when life feels heavy and we hear God's gentle whisper to set it all down, let's re-center for a second and ask, "God, what have you called me to carry?"
I think He'll show us that we were never meant to do anything apart from Him. I think He'll help us better understand that Jesus came to take our burdens and set us free. I think He'll reveal to us that there's not any area of life where He will not be with us. And I think that He'll tell us that nothing can change the fact that His grace is for us.
For what He calls us to carry, it's in His strength and not our own. And I bet we'd be so blessed to trust His purposes for those very specific things.
For what He doesn't call us to carry, we may find ourselves letting go of some stuff. It may mean making some hard changes. And it definitely may be humbling to surrender (trust me, I know after falling up those stairs). But friends, God is more than worth it.
His grace changes everything. And the crazy thing is that though we're dropping the weights, God never leaves us empty handed! As we get to surrender and get to open our hands to God, what we'll find is that not only does He carry us by His grace but He calls us carriers of His grace!
Yes, where there once were weights, we find Him! He faithfully fills us to overflowing with His love, His grace, His peace, His strength, and His joy! What we receive, we get to give away. And that's the most beautiful thing.
As we get to surrender and get to open our hands to God, what we'll find is that not only does He carry us by His grace but He calls us carriers of His grace!
Click To Tweet
CELEBRATE THE WORD
Isaiah 40:11 //  He tends his flock like a shepherd: He gathers the lambs in his arm and carries them close to his heart; he gently leads those that have young.
Matthew 11:28-30 // "Come to me, all you who are weary and burdened, and I will give you rest. Take my yoke upon you and learn from me, for I am gentle and humble in heart, and you will find rest for your souls. For my yoke is easy and my burden is light."
Psalm 55:22 // Cast your burden on the Lord, and he will sustain you.
Hebrews 12:1-2 // Therefore, since we are surrounded by such a great cloud of witnesses, let us throw off everything that hinders and the sin that so easily entangles. And let us run with perseverance the race marked out for us, fixing our eyes on Jesus, the pioneer and perfecter of faith.
2 Corinthians 1:3-4 // Blessed be the God and Father of our Lord Jesus Christ, the Father of mercies and God of all comfort, who comforts us in all our affliction, so that we may be able to comfort those who are in any affliction, with the comfort with which we ourselves are comforted by God.
Ephesians 2:8-9 // For by grace you have been saved through faith. And this is not your own doing; it is the gift of God, not a result of works, so that no one may boast.
1 Peter 4:10 // As each has received a gift, use it to serve one another, as good stewards of God's varied grace.
CULTIVATE PRAYER
God, thank you that you're so faithful every day – that your grace is new every morning and that you're constantly with me. God, show me the areas of my life that you've called me to carry by Your strength. And please show me the weights that you're calling me to let go of. I'm so grateful that through Jesus you've given me all of You. So, I surrender my life – I'm dropping the sins, I'm laying down my burdens, and I'm saying yes to your grace – and I pray that I can be a blessing to others. Thank you for carrying me by your grace and for calling me a carrier of your grace. I love you so much. In Jesus' name, Amen.