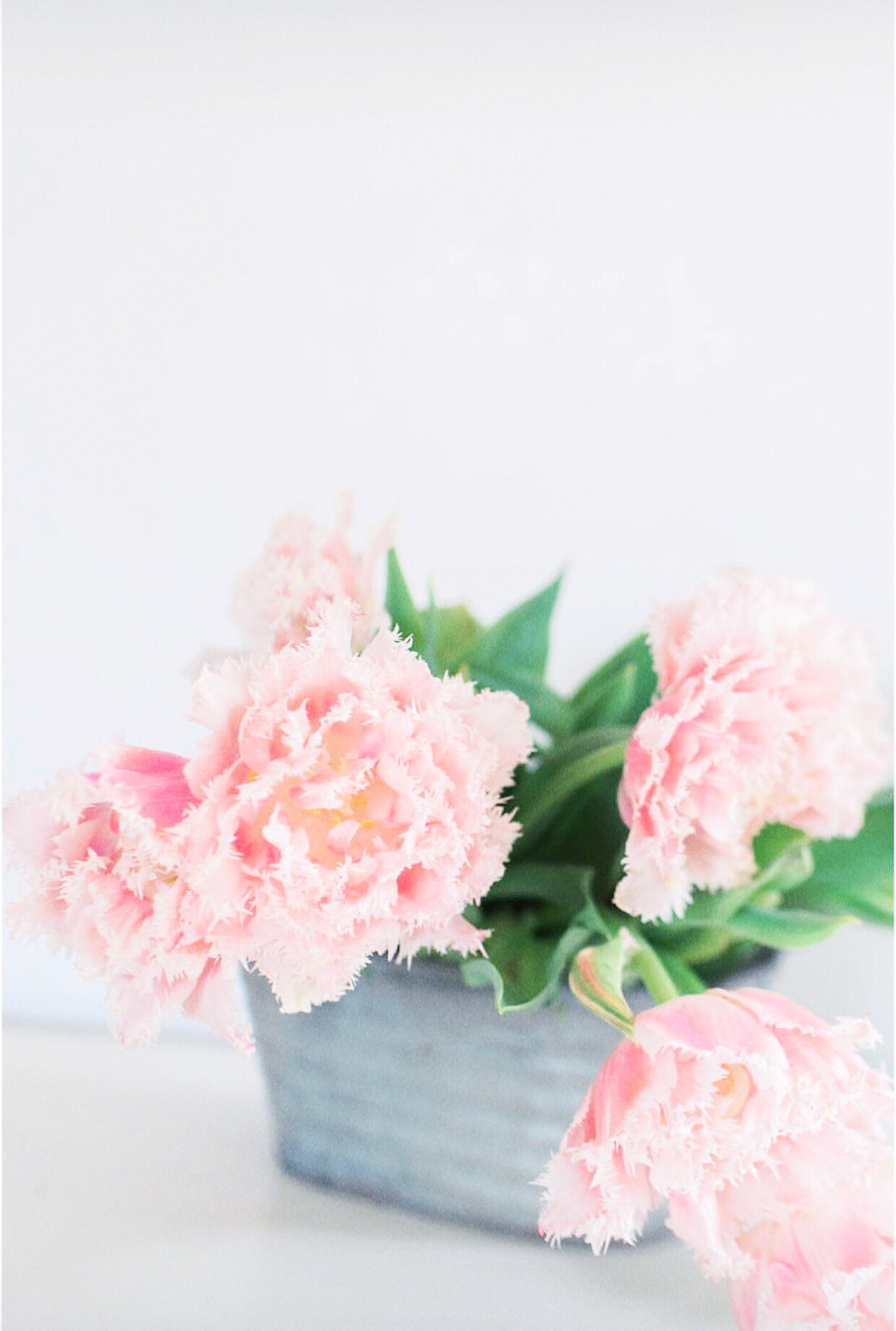 There's something so captivating about a flower. Why, I love everything from peonies to ranunculus to magnolias!  And I believe it's not just because of their beauty but because they point to a greater Creator. A loving Father who's in every detail and gives life abundantly. And its easy to look at flowers and pretty things and beauty all around us, to admire it yet sense that there's a discord between what we see on the outside versus what we feel and experience on the inside of us.
Maybe this season doesn't feel like a flourishing season for you.
Like winter, it could seem very much dead, cold and dreary while we long for seasons of growth and of flowering and flourishing.
But what God's been teaching me lately is that even though this season doesn't necessarily look like that gorgeous blush flower I so love to admire and dream of, these flowers really stand for a hope He has ahead of me. And He's really placed this expectancy within me that, even if my life does not resemble that right now, that's what He has for me. He has abundance for you and me in Christ today and everyday ahead. Because it's all about Him: how good He is, what He can grow and that we can have faith in a creative God who has better plans for His glory. Aren't we so blessed that we get to be a part of that?
And since we know who God is, we may be asking ourselves: "If I don't see that flourishing garden but I know God will one day have that in store, what does that mean for right now?"
Here's the word He's given me: embrace a season of cultivating.
While cultivate has kind of been this trendy term lately when it comes to goals and growth, the true definition of cultivate is to prepare, to till land for crops or animals. Even before the seed has ever been laid. Even before there's something to be sown. To cultivate is simply to prepare for what's to come.
And I believe that's what God calls us to do in these seasons of waiting and in the mundane. God's actually calling us to prepare our hearts, to prepare the land that He's given us, to look ahead and to deeply know that seeds will one day be sown and flourishing will one day come. But while we don't necessarily know the time or details, we can step forward in faith today.
Maybe God's stirring something within you and you're thinking "Hey, God, I know you're about to put a dream within my heart but I don't know how it's going to happen." The greatest gift is that we can bring this to Him and ask: "Lord, what would you have me prepare right now?"
For all of us, let our cultivating start in our relationship with Jesus – getting in the Word, abiding in Him, and simply being with Him – because we're assured that He's the gift. In Him, we lack nothing. Even more, from this relationship is where He's going to plant seeds and bear beautiful, lasting fruit we couldn't even imagine in places we couldn't imagine. It's the soil of our hearts that is going to be that growing ground for us.
Let our cultivating start in our relationship with Jesus - getting in the Word, abiding in Him, and simply being with Him - because we're assured that He's the gift.
Click To Tweet
Maybe in this season, cultivating means to dig into the development of our children and the discipleship within our home in marriage and motherhood – these little day-to-day details that we can't understand how God will use. It may be to care for the job He's set in front of you though it's not your favorite thing in the world. It may be to simply not give up and to press into the imperfect progress of your 2018 goals.
The reality is that it might not feel like anything's sprouting there right now, but to be faithful in the cultivating of your heart, home or workplace today… that's just the tilling of the ground where God's going to plant His better plans.
Yes, we may peer down and think this ground looks like cement today. But be encouraged: God can grow flowers where we think they shouldn't. Where we doubt. Where we assume He's holding out on us.
Right where you are, in the place that God's given you influence over and stewardship of, let's be excited over the fact that that's the fertile ground He'll use! Even in the mess and imperfection, He's going to produce a harvest bigger than us because that's who He is.
So, let's embrace this season of cultivating where His abundance already is! No matter what today looks like, we can boldly take the next step of faith as we fix our eyes on this eternal + flourishing hope God has for us.
What is God calling you to cultivate today? If you'd like, share with us below in the comments. I know it would be an encouragement to so many!
With grace,
Diana Megan